AM Ground Systems

For Every Application
Copperweld® CSS wire for buried radials Elevated Radial Systems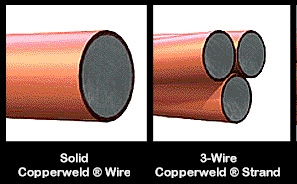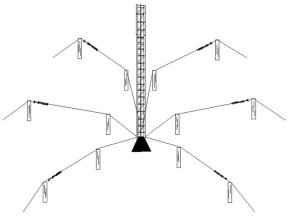 Bimetallic Products′s copper-clad steel is a composite in which a concentric copper cladding is metallurgically bonded to a steel core,. This is accomplished through a continuous, hot, solid-cladding process using pressure rolling for primary bonding. Standard Copperweld® wire is not annealed, making it very springy to deal with. However, Copperweld® ground wire is annealed and handles just like pure copper wire. It can also be silver soldered like pure copper.
Bimetallic Products® offers significant cost-savings over solid copper wire. When specifying new equipment or replacing existing solid copper, specifiers should consider that CCS combines the strength of steel with the conductivity of copper. In general, it cost less, weighs less, and handles and installs just as easily as copper.
Nott Ltd. is the exclusive distributor of Copperweld® CCS wire for the broadcast industry.
---
Elevated Radial System

Easily Inspected
Less Expensive
Performs equal to or better than a buried system
Requires less labor and material to install
Fully complies with FCC requirements
Can utilize the land below the system for farming, storage buildings, etc
FREE system design with purchase of an elevated radial system from Nott Ltd.
Contact Us for additional information and pricing